Leonard "Fritz" Shurmur dies at he age of 67, at his home this morning of cancer. He will be sorely missed in football and as a person. When he was working for the Packers all the players and fans loved him. To his wife and kids from this Packer Backer all my wishes and prayers go to you.
The Green Bay Packers name three players as starters Monday - Bill Schroeder at wide receiver, Mike Wahle at left guard adn rookie Mike McKenzie at left cornerback.
Derrick Mayes is traded to the Seattle Seahawks.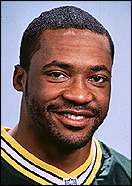 inside 1265 - The Ray Rhodes Show airs on a state- wide basis starting in August on WTMJ - TV (ch - 4) in Milwaukee' WFRV - TV (ch - 5) in Green Bay , WISC - TV (ch-3) in Madison, WSAW - TV (ch - 7) in Wausau and WXOW - TV/WQOW - TV in La Crosse, with air dates and times varying by market.
As of the 3 of Aug. 1999 Robert Brooks has turned in his uniform and told the Packers that his body can't take the pounding anymore so he has retired. Robert we the fans of the Green Bay Packers will miss you a lot and I know that we have enjoyed watching you play for us. We wish you the best and hope that you will keep in touch with the Packers and the fans. I hope that you will have as much success in your music.
The Green Bay Packers have released their 1999 Training Camp Practice Schedule. You Can make your training camp plans with the help of the Packers.com Training Camp Guide. There's a ton of fun to have in Tittletown This summer and Packers.com gives you all the details.
COMPLETE DETAIL AVAILABLE AT http://www.packers.com/camp99 So see you there.
23 June 1999
Desmond Howard is Back in Green Bay
ON This day Ron Wolf announced that the Green Bay Packers have acquired the rights of Desmond Howard to a Multi Year Contract. The Raiders didn't feel the need of him anymore so they let him go, the Green Bay Packers contacted his agent and offered him a contract and Desmond said that their was no other team that he would rather play with then the Packers. He liked the Packers commitment to a winning team and he knows the players and the system.
I will get you more information on Desmond Howard when I can look it up.
Vince Workman named Pro Personnel Assistant
Vince Workman, a former running back for the tem has been named personnel assistant for the Green Bay Packers , Executive Vice President/ General Manager Ron Wolf announced.
Workman who will assist pro personal director Riggie McKenzie, succeeds Will Lewis, who resigned in May to become pro personnel director for the Seattle Seahawks.
Workman Pos. RB Years 1989-92 Collage Ohio State