16 July 2000
Packers Sign WR/KR Joey Jamison
The Packers have signed wide reseiver/ kick returner Joey Jamison , a fifthe -round draft selection out of Texas Southern to a milti - year contract.
12 June 2000
Sherman Calls Audible , Takes Team Bowling
The day started off just like any other during minicamp for the Green Bay Packers. The players attened meetings and then boarded the busses for practice only the busses didn't stop at the Pracitce field.
Head Coach Mike Sherman cancelled today's minicamp practice and took the team bowling. According to Sherman, the purpose was to bring the team closer together and to reward the team for an offseason of hard practices.
5 June 2000
Packers Release Chmura, Koonce
Tight end Mark Chmura and Linebacker George Koonce , Packers since 1992, have been released. And this Packer Fan will miss them dearly but I know that they will end up some where else and play again. In fact George Koonce is having interviews with the Seattle Seahawks this week of June 12. So all the best to him and continued success. Packer Dean
15 May 2000
Packers Release Training Camp Schedule
Mike Sherman will launch his first training camp as Green Bay's head coach with the beginning of full squad two a day workouts Saturday July 22.
Rookies and first year players will be reporting four days earlier on Tuesday July 18, and will take part in a afternoon practice July 19 as well as morning and afternoon workouts July 20. Thursday, July 20 will be the reporting day for veteran players.
I will have the full Schedule up here with in a couple of days. Packer Dean
9 May 2000
John Dorsey Returns to the Packers
John Dorsey , a former Packers player and previously a member of the teams personnel department for eight years , has returned to the Packers as director of college scouting.
2 May 2000
Lambeau Vote
It looks like 90 out of 99 will vote yes to the Lambeau field renovation and expansion bill in the State Assembly and then it will go to the governor for his signature then it will go to the Brown Co. people for a vote by them.
I don't know how the rest of you fell but this Packer fan says it's about time it goes back to Brown Co. for a vote . And I hope the people in Brown co. approve this bill, because we've always said that the Packers have the best fans so lets prove it by passing this by a very LARGE margin. Packer Dean
2 May 2000
Packers In Top 5 In NFL Merchandise
The Packers ranked 4th out of 31 NFL teams, behind only the Dallas Cowboys, Denver Broncos and the reborn Cleveland Browns.
6 April 2000
Wisconsin Senate Passes Lambeau Bill
Today the Wisconsin State Senate passed Assembly Bill 892 by a vote of 28 - 5. The State Assembly willnow have to appove the same version of the bill before it can go to Gov. Thompson. Previously the Assembly passed its version of the bill with a stromg bi- partion vote of 73- 22.
I f Gov. Thompson signs the bill , a referendum will be held in Brown County in September where voters will decide whether or not to impose a half - penny sales tax in Brown County to help renovate Lambeau Field.
This Packer Fan has to wonder what Senate Majority Leader Chuck Chvala was and is trying to do. Who does he think he is I know that he ran for Gov. at one time and lost. Does he think that since he lost there that he can over use his power here. This Packer Fan thinks he should be replaced next election.
Your Packer Fan Packer Dean
6 April 2000
Packers Sign Winters to Milti - Year Contract
Frank Winters the 13 year professional center of the Packers has signed a four year deal that should take him to the end of his playing days in the NFL. Welcome back Frank.
25 March 2000
Ron Wolf
Ron Wolf to be inducted into the Packer Hall of Fame. This special ceremony will take place Friday , July 28, 5:30 P.M> at the 30th Annual Packer Hall of Fame Induction Banquet at Shopko Hall. Congratulations Ron Wolf you deserve it Packer Dean
25 March 2000
Camp Sherman Hits the Practice Field
The Mike Sherman era officially opened with two on- field workouts, conducted with over 60 players inside theDon Hutson Center. In reality, it had begun the previous afternoon with a tone setting team meeting at which the Packers' new head coach had laid out his rules. After watching the pair of practices Sherman was excited about his new role, though he insisted that his team had much work to do. "I thought it was a little sloppy ", he said . "I think we can do a lot better. We need to throw and catch the ball better in these mini- camps I didn't think we did that real well. But I think that's understandable considering the nature of our defense and also that our timing isn't what it needs to be at the present time. Eight - and - Eight is good enough for a lot of people. But it's not good enough for the Green Bay Packers.
9 March 2000
Bevell Named Offensive Assistant
Darrell Bevell use to be the Badgers Q.B. and took them to a Rose Bowl and won. The Packers hired him to assist Tom Rossley with the quarterbacks as well as contribute to the quality control duties of the Packers coaching staff. Well Darrell welcome to the best organizion in the league. I liked you as a quarterback with the Badgers and now you will be working with the best quarterback in the league Brett Favre I hope that you can settle him down so that he can have the game that he is always capable of having. So the best of luck and enjoy the expriance. Your Packer Backer Packer Dean
23 Feburary 2000
Sherman Names Davis
The Packers have named Billy Davis as Defensive Assistant. He came from the Cleveland Browns in 1999.
23 Feburary 2000
Roster Moves
The Green Bay Packers continue to add depth to the defensive line by signing the 6 - 5, 300- pound third year Pro from the Pittsburfh Steelers by the name of Rod Manuel. The Packers also claimed off of waibers Matt Keneley from the San Francisco 49er's.
16 Feburary 2000
New Defensive Coach
Head Coach Mike Sherman continued to fill out his staff. The new defensive line coach for the Packers is Jethro Franklin. To see more about him and the other coaches go to the Coaches 2000 section and check him out and also the other coaches. I don't have them all up yet but give me a chance. Thanks Packer Dean
16 Feburary 2000
Packers Sign D.E. John Thierry
The 6 - 4 , 265- pound Thierry has signed a contract with the Green Bay Packers.
12 Feburary 2000
Three More Added to Staff
The Packers have named three more tho the coaching staff and they are Bob Slowik, who will coach the Defensive Backs. And two are from last years coaches and they are Lionel Washington who will assist Slowik as assistant Secondary coach and Jeff Jagodzinski who returns as Tight Ends coach.
11 Feburary 2000
Lenny McGill
The Packers have named Lenny McGill to the Packers College Scouting Staff.
11 Feburary 2000
Mike Sherman Hires Two more Coaches
The Packers added a couple of new people to the coaching staff and they are Larry Beightol and Bo Pelini. Larry Beightol will coach the offensive line and Bo Pelini will coach the Linebackers. Nice to have them with us and the Packers, so all the best wishes from this Packer Fan. Packer Dean
5 FEBURARY 2000
Mike Sherman Hires Two more Coaches
Kippy Brown and Ray Sherman, both of whom served as offensive coordinators for NFL teams last season have been named to coach running backs and wide receivers for the Packers. For more information click on the new coaches secitions and take a look.
Packer Dean
23 January 2000
We're Going to Build a Stadium the Rest of the NFL Wished it Had!!!!!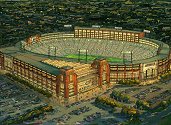 The Parkers are RENOVATING LAMBEUA FIELD at the cost of $295 million dollars. The start of the projevt will begain with the groundbreaking in January 2001.
What we will get is a striking red breck and green gates that increases seating capacity to 71,000,expands the main concource and adds a secound, boosts the number of resttooms and concession areas, jazzes up luxury suites. adds club seats indoors and out, and moves the Packer Hall of fame to a new atrium. And something that Packer Fans will be proud of for many years to come. I know this Packer Fan loves what he sees and will help in any way to support the new Lambeua Field. We will have a new Place in this web site that will follow the constrution of our beloved Lambeua Field. So come and be a part of this site. Packer Dean
17 January 2000
Ron Wolf hries Mike Sherman
Ron faced with a short list for head coaches made his pick and went out and took Mike Sherman from the Seattle Seahawks. Mike Sherman was Mike Holmgren's offensive coordinator. There will be more information on him and his new coaching staff on another page in this site. This Packer Backer wishes the best for him and his staff. Good luck from Packer Dean
3 January 2000
Ron Wolf Fires Head Coach Ray Rhodes
Wolf relieved Ray Rhodes as head football coach of the Green Bay Packers. For whatever reason our players did not respond to this program said wolf . We wil begin our seach for a new coach at ance. I don't know if this is the right or wrong thing for Ron Wolf to do but I guess we have to believe in him because he did bring in Mike H. and take us to two super bowls but he should of let Ray Rhodes Coach for one more year, but there was sure something wrong. So who will be our next coach. Packer Dean
6 Dec. 99
Antonio Dingle and Kieth Crawford Placed on Waivers
6 Dec. 99
Humphrey signed to Practice Squad
The 6-3, 240 -pound Humphrey a free agent out of Florida State, origianlly had been signed as a undrafted free agent April 23. 1999. He played all four of the Packers Preseason games before being placed on waivers Sept 5. He has jersey number 59. Welcome back to the Packers Humphrey.
6 Dec 99
Tyrone Goodson Moved to Active Roster
The Packers have signed wide receiver Tyrone Goodson from the practice squad to the teams 53 player active roster. The 25 year old Goodson, signed as a free agent February 17 had been placed on waivers in the final roster reduction for the regular season Sept. 5 and signed to the Practice squad Sept 7.
I hope that he does good for the Packers. Packer Dean
6 Dec. 99
Packers Release Desmond Howard
The Packers have placed veteran wide receiver/kick returner Desmond Howard on waivers. Inactive the past three weeks because of finger injuries on both hands.
Then the Lions pick him up and he does a good job over thier my ? is why wasn't he playing like that for us. So I have to say that I am glad that he is gone. Packer Dean
27 Nov. 99
Ross Verba
Ross Verba infured his kne during Sunday's game against the Lions and was replaced by right tackel Mike Wahle. It was cartilage damage and it's a week to week time frame to when he will come back. I hope everything goes alright and he's back soon. Tell then he has my best wishes at this time. Packer Dean
27 Nov. 99
Andrizzi Placed on IR
The Green Bay Packers have placed offensive guard Joe Andruzzi on injured reserve. Andruzzi, injured in the Dallas game on Nov. 14 is scheduled to undergo surgery after Thanksgiving for repair of a tear in the Medial Collateral Ligament in his right knee. I hope his surgery goes alright . My wishes goes out to him and his family. Packer Dean
27 Nov. 99
Heimburger Signed to Roster
The Packers have signed Center/Guard Craig Heimburger from the practice squad to active roster. Heimburger is a fifth - round selection out of the university of Missouri in this years dragt, he is 6' 2" and wieghs 318 pounds. He was a four-year letterman at Missouri.
13 Nov. 99
Signed Keith Crawford
The Green Bay Packers have signed defensive back Keith Crawford as a free agent. The 28 year old Crawford who is in his secound tour of duty with the Packers, poened the 1999 season with the Kansas City Chiefs.
13 Nov. 99
Brain Williams
Brain Williams was placed on injured reserve after undergoing knee surgery Nov. 5. Williams had suffered arupture of the patellar tendon in his right knee in the Packers' game against Seattle Nov.1. Let's hope that every thing goes alright so he can come back next year and have a Great season. Thanks for this season. Packer Dean
30 Oct. 99
Mark Chmura Looking to 2000
After seeking opinions from several specialists, tight end Chewy told the media that he was not going to retire and plans on playing next season. Lets hope that he can and not hurt himself any more Thanks Chewy
30 Oct. 99
Packers Fans Voted Centurys Best
According to the Pro- Football Hall of fame board of selectors the Green Bay Packers have the Centurys best fans. Previouly the Packers were voted to have the best Uniforms and Stadium. That's no new news to this Packer Fan.
30 Oct. 99
Concerned over a recent increase in incidents of fan Miconduct.
Concerned over a recent increase in incidents of misconduct by fans at home games, the Green Bay Packers organization is reminding fans of its policy on fan misconduct and the potential loss of season tickets. So lets behave and have a good time and not hurt anybody and ourselves and make a bad impression on other teams. We are the Packers
Thanks Packer Dean
Leonard "Fritz" Shurmur dies at he age of 67, at his home this morning of cancer. He will be sorely missed in football and as a person. When he was working for the Packers all the players and fans loved him. To his wife and kids from this Packer Backer all my wishes and prayers go to you.
The Green Bay Packers name three players as starters Monday - Bill Schroeder at wide receiver, Mike Wahle at left guard adn rookie Mike McKenzie at left cornerback.
Derrick Mayes is traded to the Seattle Seahawks.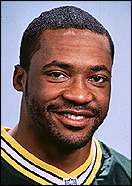 23 June 1999
Desmond Howard is Back in Green BVince Workman named Pro Personnel Assistant
Vince Workman, a former running back for the tem has been named personnel assistant for the Green Bay Packers , Executive Vice President/ General Manager Ron Wolf announced.
Workman who will assist pro personal director Riggie McKenzie, succeeds Will Lewis, who resigned in May to become pro personnel director for the Seattle Seahawks.
Workman Pos. RB Years 1989-92 Collage Ohio State